January 2023 shop is closed on 18 January(Wed).
FLOOR GUIDE
4F
PERSONAL BEAUTY SESSION
Individualized beauty lessons in private rooms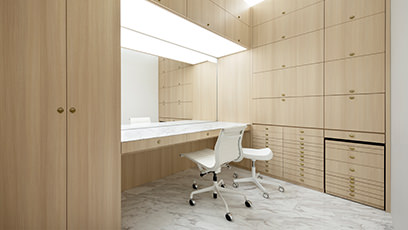 Armed with a wealth of knowledge, our beauty consultant will give you a personalized beauty lesson in a private room.We first analyze your skin and face using special instruments, and building on this information, you can learn and master beauty techniques which are most aligned to your facial features.
SHISEIDO THE TABLES
Café & event space, special merchandise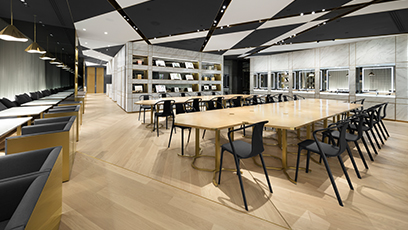 Event & Seminar
Shopping
Cafe
This is a community-oriented space with a constant offering of three elements: food, books, and goods. Come share and enjoy our approach to the five, not four, seasons, as well as meals and original events to suit the occasion.
3F
BEAUTY BOOST BAR
& PHOTO STUDIO
Hair & makeup salon & photography studio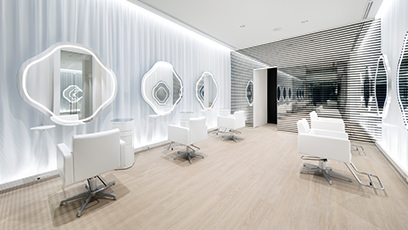 Hair & Makeup
Photo Studio
Our hair & makeup artists offer suggestions to best highlight your beauty and appeal.
If you wish, you can sit for a professional photo shoot in our studio after your makeover.
Whether to make your dreams come true or to suit a specific occasion, we help you look your best today.
ESPACE CLÉ DE PEAU BEAUTÉ
Beauty Spa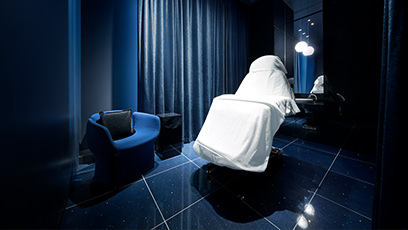 A premium salon infused with the intelligence and elegance of Clé de Peau Beauté.
A personally customized, haute couture program awaits you in this serene, quality space.
An all-manual massage by a beauty therapist will release your body and mind for a moment of enchantment and bliss.
2F
BEAUTY SQUARE 2
Cosmetics & consultation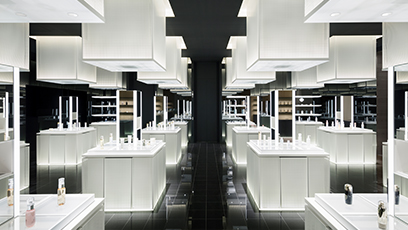 You can find the Shiseido lineup on this floor.
Choose your favorite products from a lot of brands.
Through attentive, fine-tuned consulting, we will offer solutions in alignment with your skin condition and facial features. Come find the skincare, makeup, and fragrance to illuminate your beauty.
1F
BEAUTY SQUARE 1
Cosmetics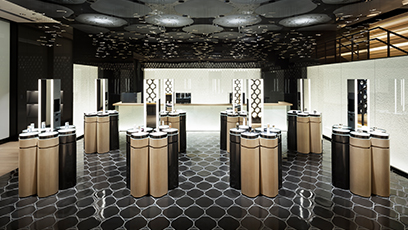 This floor is for experiencing and purchasing our SHISEIDO and Clé de Peau Beauté brand products. Customers can test our products, both skincare and makeup, to their heart's content in this luxurious and playful interior space.
ACCESS TO SHISEIDO THE STORE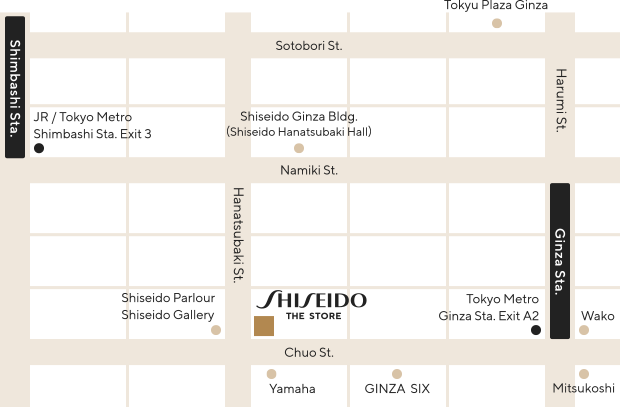 SHISEIDO THE STORE
Address: 7–8–10, Ginza, Chuo-ku, Tokyo 104–0061
TEL: 03–3571–7735
Business Hours: 11:00–20:00 (no regular holiday)
Transportation Access:

Approx. 7min walk from Tokyo Metro Ginza Station
Approx. 5min walk from JR/Tokyo Metro Shimbashi Station
STORE INFORMATION
Credit cards accepted
VISA, MASTER, AMEX, JCB, DINERS, DISCOVER, UNION PAY, ALIPAY, WE CHAT PAY
Information about Tax Free services
We offer Tax Free shopping services for our cosmetic products, perfumes, foods and supliments. (There are exceptions.)
Please ask our staffs further information regarding Tax Free services and procedures.
A
&FACE

[Skincare] [Base Point Makeup]

ANESSA

[Skincare] [Base Makeup] [Body Care]

ADENOGEN

[Hair Care]

Avène

[Skincare] [Base Makeup] [Body Care]
B
Baraen

[Skincare] [Body Care] [Fragrance]

BENEFIQUE

[Skincare] [Base Point Makeup] [Hair Care] [Health Foods]
C
CHIFFONETTE

[Point Makeup]

Clé de peau BEAUTÉ

[Skincare] [Base & Point Makeup] [body] [Nail]

Clé de peau BEAUTÉ SYNACTIF

[Skincare] [Fragrance]
D
d program

[Skincare] [Base Point Makeup] [Body Care] [Hair Care]
E
EFFECTIM

[Skincare]

ELIXIR ENRICHED

[Skincare]

ELIXIR SUPERIEUR

[Skincare] [Base Makeup]

ELIXIR REFLET

[Skincare]

ELIXIR WHITE

[Skincare]
G
H
HAKU

[Skincare]

HONEY CAKE

[Soap]
I
INOUI

[Base Point Makeup]

INRYU

[Beauty Foods]

ISSEY MIYAKE

[Fragrance]
K
Kirei no Susume

[Beauty Foods]

KOTO

[Fragrance]
L
LORDOS

[Skincare] [Fragrance]
M
MAQuillAGE

[Base Point Makeup] [Fragrance]

MÉMOIRE

[Fragrance]

MURASAKI

[Fragrance]

More

[Fragrance]
N
Narciso Rodriguez

[Fragrance]
P
PERFECT COVER

[Base Makeup]

Pure White

[Beauty Foods]
R
REVITAL

[Skincare]

REVITAL GRANAS

[Skincare] [Base Makeup]

RJ <ROYAL JELLY>

[Beauty Foods]
S
SHISEIDO BENEFIANCE

[Skincare] [Body]

SHISEIDO BIO-PERFORMANCE

[Skincare]

SHISEIDO BOP

[Skincare]

SHISEIDO CHOUMEISOU

[Beauty Foods]

SHISEIDO ESSENTIAL ENERGY

[Skincare]

SHISEIDO EUDERMINE

[Skincare]

SHISEIDO <For Stage Makeup>

[Base & Point Makeup]

SHISEIDO FUTURE SOLUTION LX

[Skincare] [Body] [Base Makeup]

SHISEIDO GENTLE FORCE

[Skincare]

SHISEIDO MAKEUP

[Base & Point Makeup]

SHISEIDO MEN

[Skincare]

SHISEIDO SKINCARE

[Skincare]

SHISEIDO SUNCARE

[Body]

SHISEIDO THE MAKEUP

[Tools & Accessories]

SHISEIDO ULTIMUNE

[Skincare]

SHISEIDO VITAL-PERFECTION

[Skincare] [Base Makeup]

SHISEIDO WHITELUCENT

[Skincare] [Base Makeup]

SHISEIDO ZEN

[Fragrance]

SUZURO

[Fragrance]

SERGE LUTENS

[Fragrance] [Base & Pont Makeup]
T
TACTICS

[Skincare] [Fragrance]

THE COTTON

[Tools & Accessories]

THE GINZA

[Skincare]
W
White Rose NATURAL

[Fragrance]