Year-end and New-years Store Hours Information

December 17, 2018 (Mon): Closed at 4pm
December 30, 2018 (Sun) – January 2, 2019 (Wed): Closed
FLOOR GUIDE
4F
PERSONAL BEAUTY SESSION
Beauty Lesson in a Private Room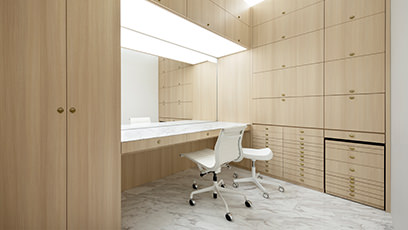 An experienced counselor will give you detailed advices on becoming even more beautiful. With the most advanced technology, the balance of your face is analyzed and a consultation will be given. It is a fee-based consultation service that has various menus that propose solutions to concerns about makeup.
SHISEIDO THE TABLES
Cafe for Members, Seminar Space / Original & Selected Goods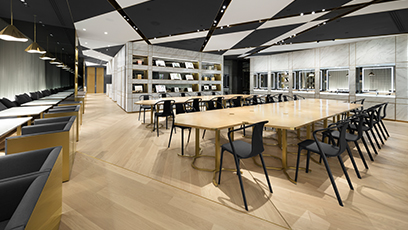 Event & Seminar
Shopping
Cafe
A members-only café that also offers goods and books, etc. to color your daily life.
We also hold beauty seminars and events irregularly (advance reservations required).
3F
BEAUTY BOOST BAR
& PHOTO STUDIO
Hair & Makeup Salon and Professional Beauty Photography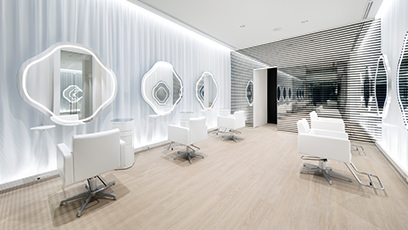 Hair & Makeup
Photo Studio
Staffs who also actively work in the back stage of fashion shows will propose styles that enhance your attractiveness. After hair styling and makeup, you can have photos taken in the studio. Photo shoots will take place in a relaxing atmosphere where you can discuss the lighting and poses with the photographer. We will keep adjusting your makeup until you get the best shot in front of the camera.
ESPACE CLÉ DE PEAU BEAUTÉ
Esthetic Salon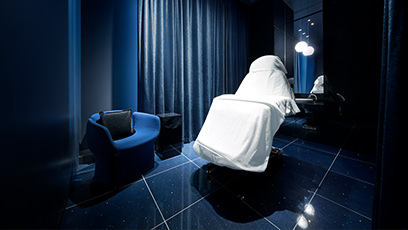 A high quality and relaxing space where the intelligence and elegance of CLÉ DE PEAU BEAUTÉ are concentrated. We provide treatments that are customized for each customer like haute couture. With the comfort of all-hand-treatments using CLÉ DE PEAU BEAUTÉ products, it will release your body and mind.
2F
BEAUTY SQUARE 2
Cosmetics Counter and Counseling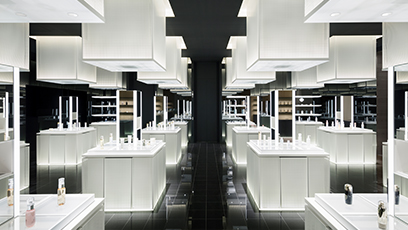 From skincare that is customized for the skin condition of each customer to makeup and fragrances that bring out the beauty of your facial features. Experienced staff will give you consultations to help bring out the beauty in you.
BEAUTY UP CABIN
Skincare Salon for Members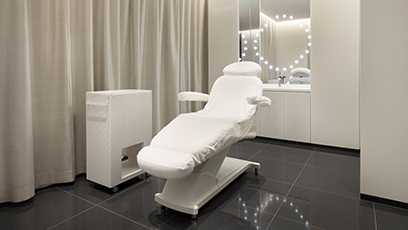 A thorough skincare in a private space. Skincare services appropriate for your skin are provided after determining the current skin condition through a professional skin analysis and consultation.

SHISEIDO THE STORE Member Program
*A fee-based salon exclusive to the members.
*Anyone can join the SHISEIDO THE STORE Member Program at the store.
1F
BEAUTY SQUARE 1
Cosmetics Counter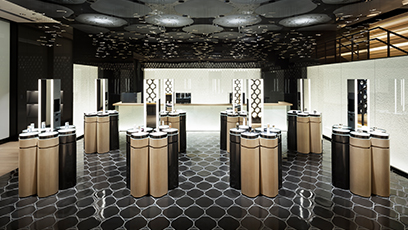 On this floor, you can experience SHISEIDO and CLÉ DE PEAU BEAUTÉ, the prestigious brands that represent Shiseido. Experienced staff will provide advice for anything from skincare to makeup for you.
STYLING BAR
Hair Makeup Counter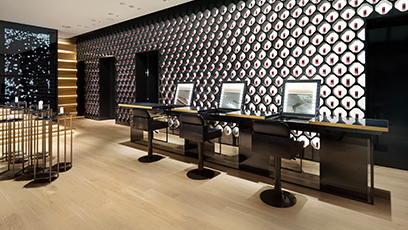 At this counter, our professional hair stylists can provide a quick hair makeup service. You can experience a part of the menu for BEAUTY BOOST BAR, a hair makeup salon on the 3rd floor.
Eyebrow designing, a trimming and shaping service, is also available (charge applies).
ACCESS TO SHISEIDO THE STORE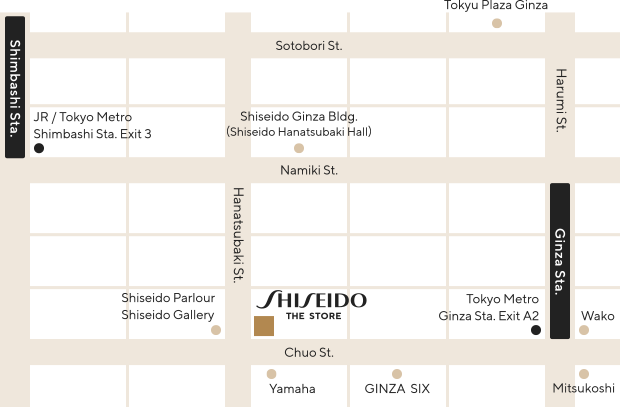 SHISEIDO THE STORE
Address: 7–8–10, Ginza, Chuo-ku, Tokyo 104–0061
TEL: 03–3571–7735
Business Hours: 11:00–20:00 (no regular holiday)
Transportation Access:

Approx. 7min walk from Tokyo Metro Ginza Station
Approx. 5min walk from JR/Tokyo Metro Shimbashi Station
STORE INFORMATION
Credit cards accepted
VISA. MASTER, AMEX, JCB, DINERS, DISCOVER, UNION PAY, ALIPAY
Reservation
Languages accommodated differ depending on the service contents. Please refer to the respective "MENU" pages.
Information about Tax Free services
We offer Tax Free shopping services for our cosmetic products, perfumes, foods and supliments. (There are exceptions.)
Please ask our staffs further information regarding Tax Free services and procedures.
A
&FACE

[Skincare] [Base Point Makeup]

AQUA LABEL

[Skincare] [Base Makeup]

ANESSA

[Skincare] [Base Makeup] [Body Care]

Aperio

[Beauty Foods]

ADENOGEN

[Hair Care]

Avène

[Skincare] [Base Makeup] [Body Care]
B
Baraen

[Skincare] [Body Care] [Fragrance]

BENEFIQUE

[Skincare] [Base Point Makeup] [Hair Care] [Health Foods]
C
CHIFFONETTE

[Point Makeup]

Clé de peau BEAUTÉ

[Skincare] [Base & Point Makeup] [body] [Nail]

Clé de peau BEAUTÉ SYNACTIF

[Skincare] [Fragrance]
D
d program

[Skincare] [Base Point Makeup] [Body Care] [Hair Care]

dicila

[Skincare] [Base Point Makeup] [Body Care] [Hair Care] [Fragrance]

2e Baby Plus

[Skincare] [Body Care] [Hair Care]

Dolce&Gabbana

[Fragrance]
E
ELIXIR ENRICHED

[Skincare]

ELIXIR SUPERIEUR

[Skincare] [Base Makeup]

ELIXIR REFLET

[Skincare]

ELIXIR WHITE

[Skincare]
F
G
H
HAKU

[Skincare]

HONEY CAKE

[Soap]
I
IHADA

[Goods]

INTEGRATE

[Base & Point Makeup]

INTEGRATE GRACY

[Base & Point Makeup]

ISSEY MIYAKE

[Fragrance]
K
Kirei no Susume

[Beauty Foods]

KOTO

[Fragrance]
L
LORDOS

[Skincare] [Fragrance]
M
MAQuillAGE

[Base Point Makeup] [Fragrance]

MAJOLICA MAJORCA

[Skincare] [Base & Point Makeup] [Body Care] [Fragrance]

MACHÉRIE

[Hair Care]

MÉMOIRE

[Fragrance]

MURASAKI

[Fragrance]

More

[Fragrance]
N
Narciso Rodriguez

[Fragrance]
P
PERFECT COVER

[Base Makeup]

PLAYLIST

[Skincare] [Base Point Makeup]

Pure White

[Beauty Foods]
Q
QIORA

[Skincare] [Base Makeup] [Fragrance]
R
REVITAL

[Skincare]

REVITAL GRANAS

[Skincare] [Base Makeup]

RJ <ROYAL JELLY>

[Beauty Foods]
S
SHISEIDO BENEFIANCE

[Skincare] [Body]

SHISEIDO BOP

[Skincare]

SHISEIDO CHOUMEISOU

[Beauty Foods]

SHISEIDO ESSENTIAL ENERGY

[Skincare]

SHISEIDO EUDERMINE

[Skincare]

SHISEIDO <For Stage Makeup>

[Base & Point Makeup]

SHISEIDO FUTURE SOLUTION LX

[Skincare] [Body] [Base Makeup]

SHISEIDO GENTLE FORCE

[Skincare]

SHISEIDO MAKEUP

[Base & Point Makeup]

SHISEIDO MEN

[Skincare] [Body] [Hair] [Fragrance]

SHISEIDO SKINCARE

[Skincare]

SHISEIDO SUNCARE

[Body]

SHISEIDO THE MAKEUP

[Tools & Accessories]

SHISEIDO ULTIMUNE

[Skincare]

SHISEIDO VITAL-PERFECTION

[Skincare] [Base Makeup]

SHISIEDO WASO

[Skincare]

SHISEIDO WHITELUCENT

[Skincare] [Base Makeup]

SHISEIDO ZEN

[Fragrance]

SUZURO

[Fragrance]

SERGE LUTENS

[Fragrance] [Base & Pont Makeup]
T
TACTICS

[Skincare] [Fragrance]

TSUBAKI

[Hair Care]

THE COLLAGEN

[Beauty Foods]

THE GINZA

[Skincare]
U
UNO

[Skincare] [Body] [Hair]
W
White Rose NATURAL

[Fragrance]